Bluetooth 4.0 – Low Energy 30 April 2012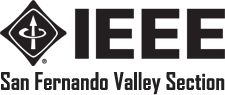 Computer and Communications, Engineering in Medicine and Biology, Consumer Electronics, Power and Energy Society Chapters
Present
Bluetooth 4.0 – Low Energy
By: Mr. Joe Decuir
Register at http://ccc-decuir.eventbrite.com/
Date and Location
Monday, 30 April 2012
6:00 PM: Dinner + Networking
7:00 PM: Presentation
West Valley Room, USU
California State University, Northridge
18111 Nordhoff Street, Northridge, CA 91330
Abstract
Bluetooth has been re-invented. Bluetooth Low Energy is optimized for two things: simple applications; run on coin cells for years. The layers from the antenna up to the applications support middleware are all published in the 2010 Bluetooth 4.0 specification. The first wave of those applications are being deployed.  Now there is support  in mobile phones (e.g. iPhone 4S, Motorola Droid RAZR), and soon PCs and other internet gateways.
This talk will address a few questions: what is Bluetooth Low Energy? how does it work? how does it compare to classic Bluetooth and to Zigbee (using IEEE 802.15.4)? what is it good for?  where do we learn more?
Speaker's Biography
Joe Decuir has been working in networking and communications for 3 decades.  As a standards architect for Cambridge Silicon Radio, he contributed to the Bluetooth 4.0 specification, and he is currently working on applications that use it.  He has been giving presentations on computer and communications topics to IEEE chapters around the US and Canada.  He also serves as the Northwest Area chair for IEEE Region 6,
Supporting Sections in Alaska, Oregon and Washington.
Logistics
Parking is not provided. You should follow the University's parking guidelines to prevent your automobile from unexpected tickets. Daily parking permits are sold for $6 per car and is valid on any STUDENT LOT.  You may purchase your daily parking permit from any information booth and/or automated permit dispenser machines on the lots. The closest parking structure to the event is Parking Structure G3 accessible from Zelzah Ave/Prairie St.
To view where the West Valley Room is located, visit http://usu.csun.edu/about/faq/pdfs/USUMap-SP2012.pdf. An information booth is located near Parking Structure G3, on Prairie Street and Matador Drive.
Questions
Should you have questions regarding this event, please contact Luis Carbajo at luis.carbajo@ieee.org